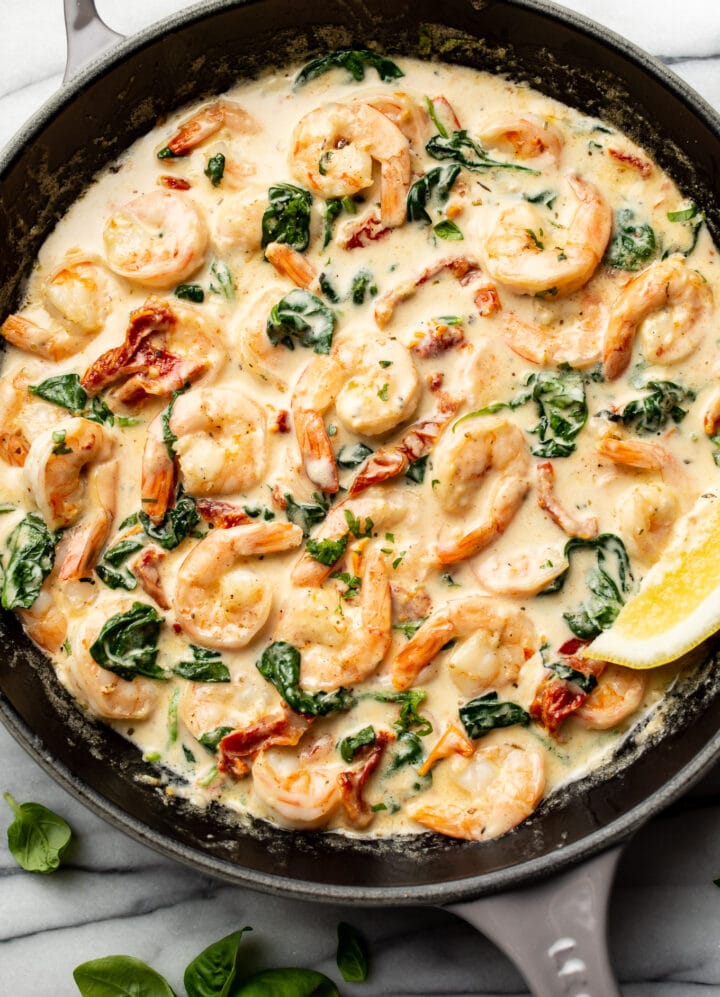 This creamy Tuscan shrimp recipe is one of those dinners that makes it seem like you tried very hard, but the minimal time and effort involved makes it perfect for weeknights! It's super easy, quick, and really, really tasty and impressive.
INGREDIENTS
2 tablespoons olive oil
2 tablespoons butter
1 pound shrimp, deveined, and tails removed
salt (to taste)
pepper (to taste)
3-4 cloves garlic (minced)
1 cup halved cherry or grape tomatoes (or sundried tomatoes)
3-4 cups baby spinach
3/4 cup heavy cream
1/4 cup freshly grated Parmesan
2 tablespoons basil, thinly sliced (or parsley)
Free Keto Meal Plan : KETO DIET PLAN FOR BEGINNERS STEP BY STEP GUIDE
INSTRUCTIONS
Heat oil and butter in a large skillet over medium-high heat. Once the oil is super hot and the butter has melted, add the shrimp and a generous sprinkle of salt & pepper, sautee for 1 minute.
Remove shrimp from pan and set aside then add the garlic, tomatoes, and spinach to the same pan. Saute for 1 minute or until the garlic is fragrant.
Stir in the heavy cream, parmesan cheese, and basil. Reduce heat to medium and simmer until sauce is slightly reduced about 2-3 minutes.
Return the shrimp to the pan and stir to combine. Taste and adjust salt if needed.
Amount Per Serving
Calories: 422kcal
Carbohydrates: 5g
Protein: 28g
Fat: 33g
Saturated Fat: 16g
Cholesterol: 367mg
Sodium: 1066mg
Potassium: 340mg
Fiber: 1g
Sugar: 1g
Vitamin C: 20mg
Calcium: 293mg
Iron: 3mg