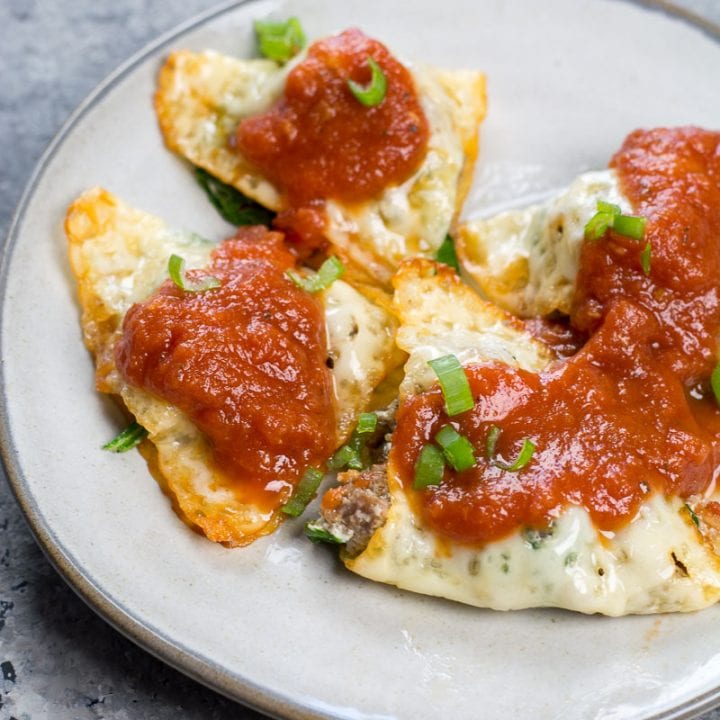 With only four simple ingredients and 1.3 net carbohydrates per serving, this fast keto ravioli recipe is loaded with sausage and spinach.
Free Keto Meal Plan : KETO DIET PLAN FOR BEGINNERS STEP BY STEP GUIDE
Duration:
Prep time: 15 MINUTES
Cook time: 5 MINUTES
Total time: 20 MINUTES
Ingredients
1/2 pound ground Italian sausage
3 ounces cream cheese
1 cup fresh spinach, torn
8 slices Mozzarella Cheese
Instructions
In a large skillet, cook the sausage and drain off any excess fat.
While the sausage is still warm, add the cream cheese and torn spinach leaves to the skillet. Stir well and set aside.
Preheat the oven to 350 degrees F.
Slice the mozzarella cheese slices diagonally so each square creates two triangles.
Place the slices on the silicone baking sheet and bake 3-5 minutes until the edges are brown .
Remove from the oven and place 1 tablespoon of the sausage filling on one side of the baked cheese shells, carefully pull the other side over to create a ravioli pocket.
Serve immediately with warm low-carb marinara.
Notes
Please use a silicone baking mat, it makes this recipe so easy. Cheese will stick to a pan without a silicone baking mat.
Nutrition Information:
YIELD: 4 SERVING SIZE: 4
Amount Per Serving:
| CALORIES: 245 | TOTAL FAT: 19.8g | CARBOHYDRATES: 1.5g | FIBER: 0.2g | PROTEIN: 13.5g |
Free Keto Meal Plan : KETO DIET PLAN FOR BEGINNERS STEP BY STEP GUIDE
Related Recipes: Keto Cinnamon Rolls
Related Recipes: GRAIN FREE JALAPENO CHEESE BREAD || LOW CARB
Related Recipes: Chocolate Eclair Cake – Low Carb and Gluten-Free