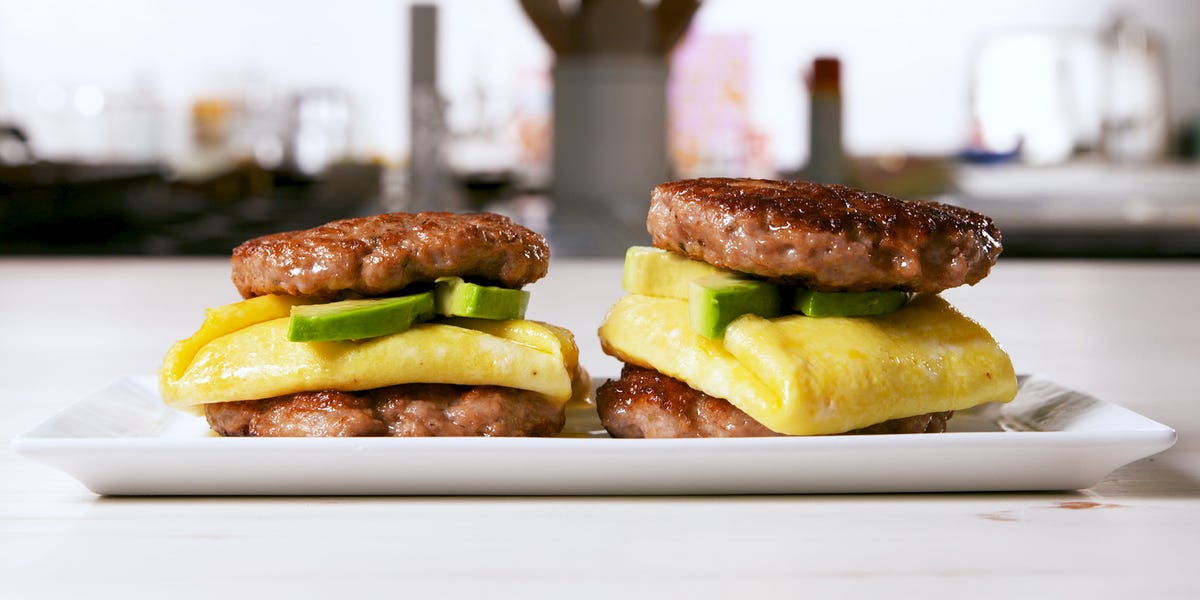 Keto Breakfast Sandwich is low in carbs, high in good fats and got a wonderful taste! The sausage on the outside is the main touch to make you not miss the bread at all! This Keto Breakfast Sandwich meal will keep you full for a long time.
We have seen a lot keto breakfast sandwiches having just place the egg outside but we need something we can actually hold! Egg whites and sausage patties are just as tasty and would be extra yummy with a slice of tomato and spinach. Skip the drive-thru line and kickstart your day with these quick and easy keto breakfast sandwiches. This morning meal works great for on-the-go eaters, too! A tasty and filling low carb and keto breakfast sandwich which really hits the spot .
Free Keto Meal Plan : KETO DIET PLAN FOR BEGINNERS STEP BY STEP GUIDE
INGREDIENTS.
2 sausage patties
1 egg
1 tablespoon cream cheese
2 tablespoons sharp cheddar cheese
1/4 medium avocado, sliced
1 / 4–1 / 2 teaspoon sriracha (to taste)
Salt, pepper to taste
Free Keto Meal Plan : KETO DIET PLAN FOR BEGINNERS STEP BY STEP GUIDE
INSTRUCTIONS.
In a skillet over medium heat, cook the sausages according to package directions and set aside.
In a small bowl, place the cream cheese and strong cheddar cheese. Microwave for 20-30 seconds until melted.
Mix the cheese with sriracha, reserve
Mix the egg with the seasoning and make a small omelette.
Fill the tortilla with the sriracha cheese mixture and make the sandwich
Nutrition.
Calories: 603
Total Carbs: 7g
Fiber: 3g
Net Carbs: 4g
Protein: 22g
Fat: 54g
Free Keto Meal Plan : KETO DIET PLAN FOR BEGINNERS STEP BY STEP GUIDE