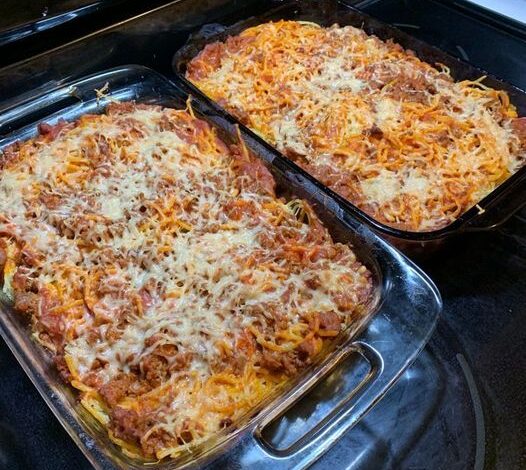 🔥🥑 Free Keto Meal Plan 🥑🔥
📚 KETO DIET PLAN FOR BEGINNERS 📚
👣 STEP BY STEP GUIDE 👣
Keto Baked Cream Cheese Spaghetti is a delicious low-carb twist on the classic Italian dish. This savory and creamy recipe replaces traditional pasta with keto-friendly alternatives like zucchini noodles or spaghetti squash, and it features a rich, cheesy cream cheese sauce that's both satisfying and low in carbs. It's a perfect choice for those following a ketogenic diet or looking to reduce their carbohydrate intake while still enjoying the flavors of a comforting pasta dish.
🔥🥑 Free Keto Meal Plan 🥑🔥
📚 KETO DIET PLAN FOR BEGINNERS 📚
👣 STEP BY STEP GUIDE 👣
PREP TIME15 mins
COOK TIME20 mins
TOTAL TIME35 mins
COURSEDinner
CUISINEAmerican
SERVINGS 6
CALORIES376 kcal
INGREDIENTS
2 cans palmini spaghetti noodles
1 tablespoon butter
1 lb ground turkey
1 1/2 cup pasta sauce
4 oz cream cheese softened
¼ cup sour cream
1/4 cup ricotta cheese
1 cup shredded mozzarella cheese
1/4 cup grated parmesan cheese
1/4 cup onion chopped
2 cloves garlic
1 tbsp fresh parsley chopped
1/2 tbsp oregano
1/2 teaspoon garlic powder
1/2 onion powder
1/4 tsp garlic salt
1/4 tsp black pepper
Fresh basil leaves
Red pepper flakes
🔥🥑 Free Keto Meal Plan 🥑🔥
📚 KETO DIET PLAN FOR BEGINNERS 📚
👣 STEP BY STEP GUIDE 👣
INSTRUCTIONS
Over medium heat, melt butter in a medium-size pan. Add ground turkey and cook until browned.
When turkey has browned, add in pasta sauce, onion, garlic, fresh parsley, oregano, garlic powder, onion powder, garlic salt, and pepper, and bring to a light simmer for 5 minutes. Set aside.
Pre-heat oven to 350 degrees.
While sauce is simmering, combine cream cheese, ricotta cheese, sour cream and 1/2 cup mozzarella in a bowl.
Drain and rinse noodles.
Spray a 9×13 baking pan or large casserole dish with oil.
Spread out the pasta evenly to cover bottom of casserole dish.
Spread the cream cheese mixture evenly over the noodles, followed by the turkey and sauce mixture.
Top with remaining mozzarella, parmesan cheese
Bake for 20-25 minutes or until cheese is melted and beginning to brown.
Garnish with fresh basil and red pepper flakes to taste.
NUTRITION
Calories: 376kcalCarbohydrates: 10.1gProtein: 24.7gFat: 28.4gSaturated Fat: 12.2gTrans Fat: 0.6gCholesterol: 106mgSodium: 592mgFiber: 3.3gSugar: 3.6g
Net Carbs: 6.81
🔥🥑 Free Keto Meal Plan 🥑🔥
📚 KETO DIET PLAN FOR BEGINNERS 📚
👣 STEP BY STEP GUIDE 👣