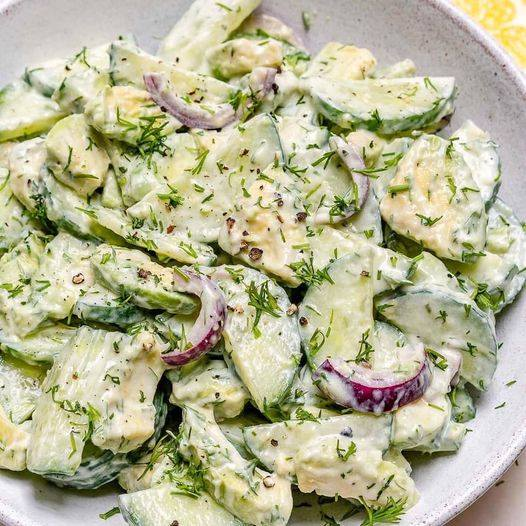 Free Keto Meal Plan : KETO DIET PLAN FOR BEGINNERS STEP BY STEP GUIDE
Ingredients:
3 medium cucumbers, cut in half, lengthways and thin sliced
2 ripe, firm avocados, chopped
1 small red onion, thinly sliced
1/3 cup plain Greek yogurt
juice of 1 fresh squeezed lemon
a small handful of fresh dill, chopped
1/2 tsp garlic powder
sea salt and fresh ground black pepper to taste, about 1/4 teaspoon each
Instructions:
In a small bowl whisk your yogurt, lemon juice, dill, garlic powder, sea salt and pepper.
In a large glass bowl add cucumbers, avocado and red onions.
Just before serving pour dressing over top and very gently toss to combine.
makes about 4-5 servings
Free Keto Meal Plan : KETO DIET PLAN FOR BEGINNERS STEP BY STEP GUIDE