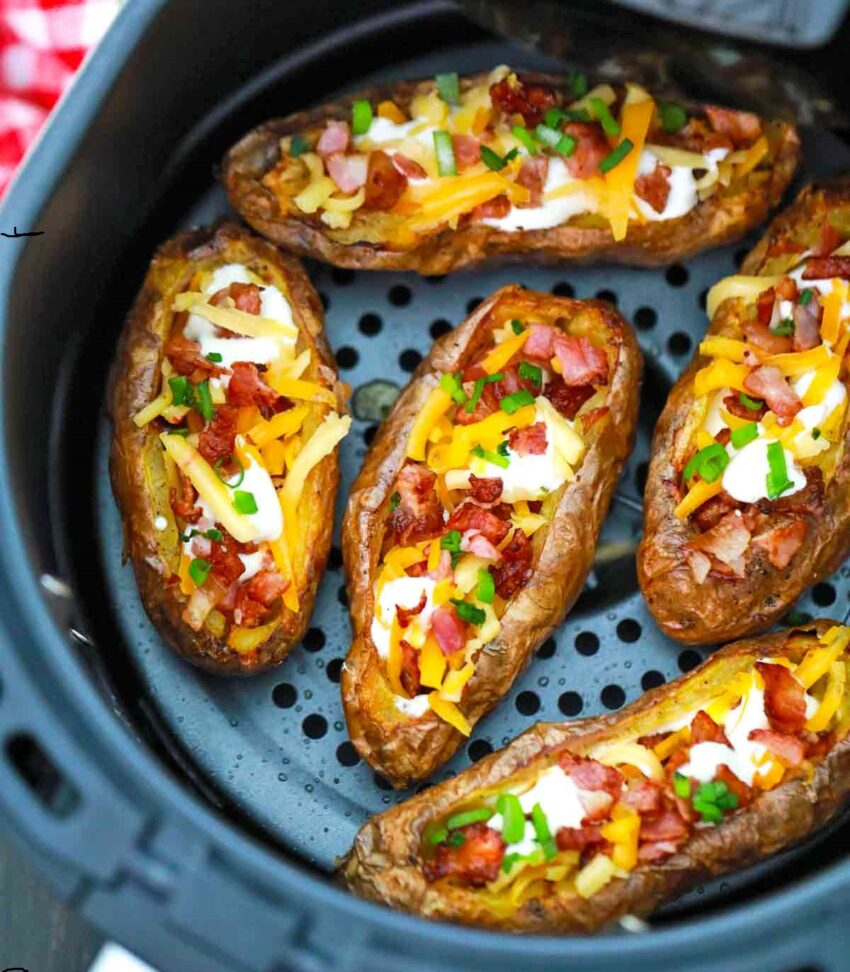 These Air Fryer Loaded Potato Skins are even better than ordering out, the potato and bacon crisp up to perfection all while being loaded with cheese and topped with a dollop of sour cream and a sprinkling of chives.
I like to go the traditional way with toppings, but feel free to add whatever toppings you like and make these as creative as you desire! These potatoes are the perfect combo of flavorful and crispy! We make them over and over and I'm sure you will love them too! Yum!
PREP TIME: 5 minutes
COOK TIME: 15 minutes
TOTAL TIME: 20 minutes.
INGREDIENTS
2 baked potatoes. Feel free to double the recipe
1/2 cup shredded cheddar cheese
¼ cup bacon bits. Can sub for cooked bacon or air fryer candied bacon, finely chopped. Divine!
½ cup sour cream
Spray oil. Or olive oil for brushing.
Chives, for topping. (can sub with green onions, finely chopped)
INSTRUCTIONS
Preheat the air fryer to 365 degrees F/ 185 degrees C.
Cut the baked potato in half lengthwise. See how to bake potato in the notes below.
Using a spoon, carefully scoop out the potato flesh, leaving a ¼-inch rim inside.
Place the potatoes in the air fryer, skin side up, spray with oil, and, optionally, sprinkle with salt and pepper.
Cook for 6-10 minutes, flipping halfway through.
Sprinkle the cheese evenly among the skins and cook for 3-5 minutes, until the cheese is melted and caramelized.
Top each potato skin evenly with bacon, sour cream, and chives. Serve immediately. Enjoy.
Free Keto Meal Plan : KETO DIET PLAN FOR BEGINNERS STEP BY STEP GUIDE