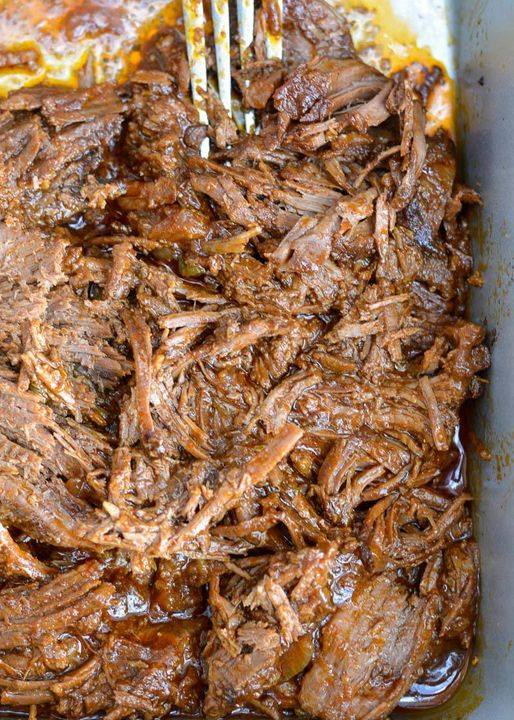 INGREDIENTS
For the Beef Rub:
1 tablespoon chili powder
2 teaspoons oregano
2 teaspoons paprika
1 teaspoon garlic powder
1 teaspoon onion powder
1 teaspoon cumin
1 teaspoon salt
1 teaspoon black pepper
Other Ingredients
2.5 pounds chuck roast
1 onion, peeled and quartered
4 cloves garlic
2 jalapeños, cut in half and seeds removed
2 cups beef broth
2 tablespoons tomato paste
1 tablespoon worcestershire sauce
INSTRUCTIONS
Combine the spices to make a rub. Rub the spices on each side of the beef. Sear the beef in 1 tablespoon of oil in a large skillet if desired (this step is optional*)
Add the beef to a slow cooker, add the quartered onion, garlic and jalapeños. Combine the beef broth, tomato paste and worcestershire sauce. Pour the sauce in the slow cooker (be mindful not to pour directly on the beef and remove the spices)
Cook on high for 4 hours or on low up to 8 hours, or until the beef shreds easily.
Shred the beef and discard the garlic, onion and jalalpenos. Drizzle the beef with the remaining sauce if desired.
Notes
Instant Pot
This can be made in a pressure cooker if desired. See post for Instant Pot instructions.
*Searing the meat: This steps does add more flavor, but it is optional. You can place the spice rubbed beef directly in the slow cooker without searing.
Free Keto Meal Plan : KETO DIET PLAN FOR BEGINNERS STEP BY STEP GUIDE