Cook Time: 20 minutes
Total Time: 40 minutes
Servings: 16
Calories: 387kcal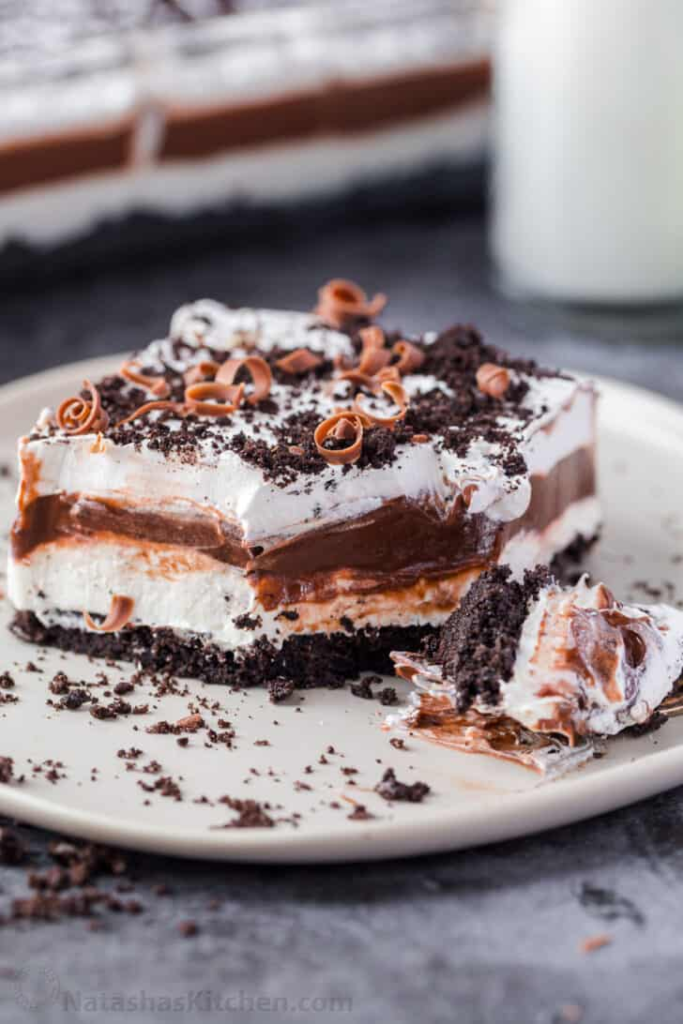 Ingredients
CHOCOLATE PUDDING
1 recipe Low Carb Chocolate Pastry Cream
CHOCOLATE COOKIE CRUST
2 cups almond flour (180 g)
1 cup Shredded Coconut (90 g)
1/3 cup cocoa powder (25 g) (sifted)
1/4 cup low carb sugar (Sukrin :1, Swerve, Lakanto, Besti)
6 tablespoons salted butter
Free Keto Meal Plan : KETO DIET PLAN FOR BEGINNERS STEP BY STEP GUIDE
Free Keto Meal Plan : KETO DIET PLAN FOR BEGINNERS STEP BY STEP GUIDE
WHIPPED CREAM
2 cups heavy cream (16 oz)
2 tablespoons erythritol, powdered
1 teaspoon stevia glycerite
1 teaspoon vanilla extract
LIGHTENED CREAM CHEESE
8 ounces cream cheese, softened
2 tablespoons almond milk
3 tablespoons sugar free powdered sugar (Sukrin, Swerve, Lakanto, Besti)
1/8 teaspoon stevia glycerite
1 1/2 cup whipped cream to be folded in
GARNISH
4 squares Ghirardelli Midnight Reverie (grated)
Free Keto Meal Plan : KETO DIET PLAN FOR BEGINNERS STEP BY STEP GUIDE
Instructions
Make the Chocolate Pudding: Prepare the Low Carb Chocolate Pastry Cream and let it cool before continuing. *This can be made several days before.
Make the Chocolate Cookie Crust: Grind the unsweetened coconut, 1/2 cup at a time, in a coffee/spice grinder until fine in texture. Put the ground coconut into a medium bowl and add the sweetener, cocoa, and almond flour. Whisk together to combine. Melt the butter or coconut oil and pour over the ingredients. Combine to form a moist crumbly mixture.
Dump the ingredients into a 13×9 inch glass pyrex baking dish and lay a sheet of waxed paper over the mixture. First with your hands, then with a flat bottomed glass, press the chocolate crust mixture firmly into the dish. Remove the waxed paper and continue with the recipe or *bake in a preheated (350) oven for about 10 minutes and then let cool completely. *This can be made the day before.
ASSEMBLING THE LOW CARB CHOCOLATE LASAGNA:
Make the Whipped Cream: Whip the cream with the vanilla and sweeteners until stiff.
Cream Cheese Layer: Soften the cream cheese in the microwave and then using a hand mixer, whip it with the sweeteners and almond milk until nice and light. Adding 1/2 cup of whipped cream at a time, fold 1 1/2 cups of whipped cream into the cream cheese. Spread evenly over the base and refrigerate.
Chocolate Pudding Layer: With a hand mixer, whip the cold pudding. Spread over the cream cheese layer.
Whipped Cream Topping: Carefully, spread the remaining whipped cream over the chocolate pudding layer and refrigerate several hours.
To finish the dessert, grate chocolate or sift cocoa powder over the top.
Notes
This is a VERY large dessert and easily serves 16-24 people.
***NOTE: Baking the bottom layer produces a shortbread-cookie-like texture: not baking, produces a sandier and softer textured bottom layer***
Nutrition Facts
Low Carb Chocolate Lasagna Sugar-free Dessert (no-bake)
Amount Per Serving
Calories 387Calories from Fat 351
% Daily Value*
Fat 39g60%
Carbohydrates 7g2%
Fiber 3g13%
Protein 7g14%
* Percent Daily Values are based on a 2000 calorie diet.
Nutrition
Calories: 387kcal | Carbohydrates: 7g | Protein: 7g | Fat: 39g | Fiber: 3g
Free Keto Meal Plan : KETO DIET PLAN FOR BEGINNERS STEP BY STEP GUIDE