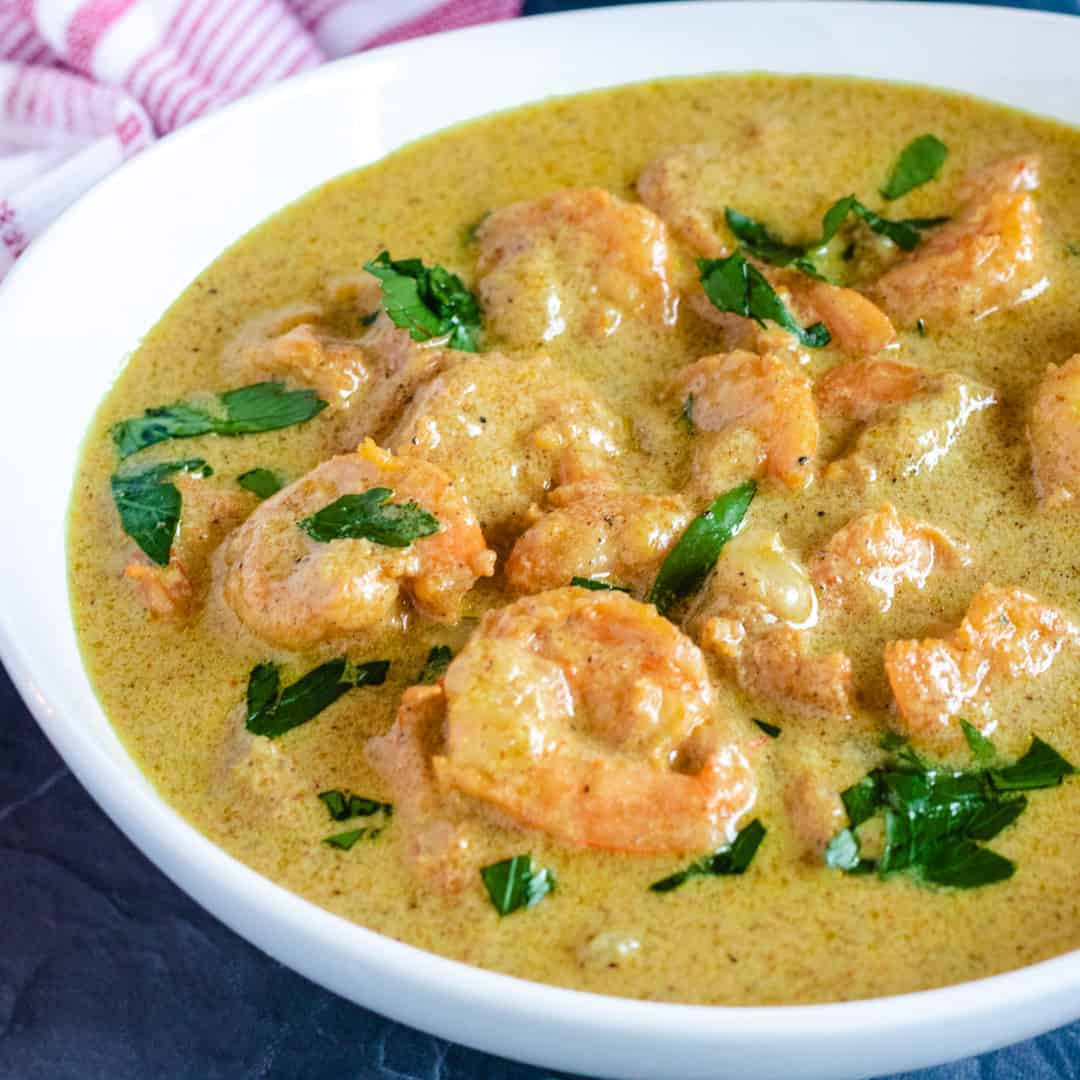 This keto shrimp coconut curry will totally blow your mind on how delicious and easy it is to make. Made with a delightful ethnic blend of spices, this curry recipe bursts with flavors that will make your taste buds squeal with joy!
Course: Main Course
Cuisine: Asian
Prep Time: 5 minutes
Cook Time: 20 minutes
Total Time: 25 minutes
Servings: 4
Calories: 237kca
Ingredients
1 lb shrimp
1 tbsp coconut oil
1 cup coconut milk
½ tsp ginger
1 tsp curry powder
½ onion
1 clove garlic
½ tsp cinnamon powder
¼ tsp ground cumin
½ tsp cayenne pepper
1 tsp black pepper
½ tsp salt
parsley or cilantro to garnish
Free Keto Meal Plan : KETO DIET PLAN FOR BEGINNERS STEP BY STEP GUIDE
Instructions
Rub the shrimps with salt, black pepper, and cayenne pepper and set aside.
Fry onions, garlic, and ginger in coconut oil for 2-3 minutes.
Pour in the coconut milk and add cumin, curry, cinnamon and boil for about 5 minutes.
Add in the shrimp with the marinade.
Let it cook till shrimp is done (approximately 10 mins).
If it gets too thick and the shrimp is not yet done, add about ¼ cup of water.
Taste for salt and add more if desired.
Garnish with parsley or cilantro and serve over cauliflower rice.
Notes
This recipe contains 4 servings and 2 net carbs per serving.
If the shrimp is not yet cooked and the sauce is getting too thick, add about ¼ cup of water. Add just a little bit at a time.
If your curry ends up a bit watery, mix 1 tablespoon of arrowroot powder with 2 tablespoons of water, and pour it into the curry to thicken it. Let it cook for 2-3 minutes.
Nutrition
Calories: 237kcal | Carbohydrates: 3g | Protein: 28g | Fat: 13g | Saturated Fat: 3g | Polyunsaturated Fat: 0.1g | Monounsaturated Fat: 0.2g | Sodium: 417mg | Potassium: 308mg | Fiber: 0.4g | Sugar: 1g | Vitamin A: 5IU | Vitamin C: 0.3mg | Calcium: 7mg | Iron: 0.2mg
Related Recipes: Chocolate Eclair Cake – Low Carb and Gluten-Free
Related Recipes : Keto Spaghetti Squash Lasagna