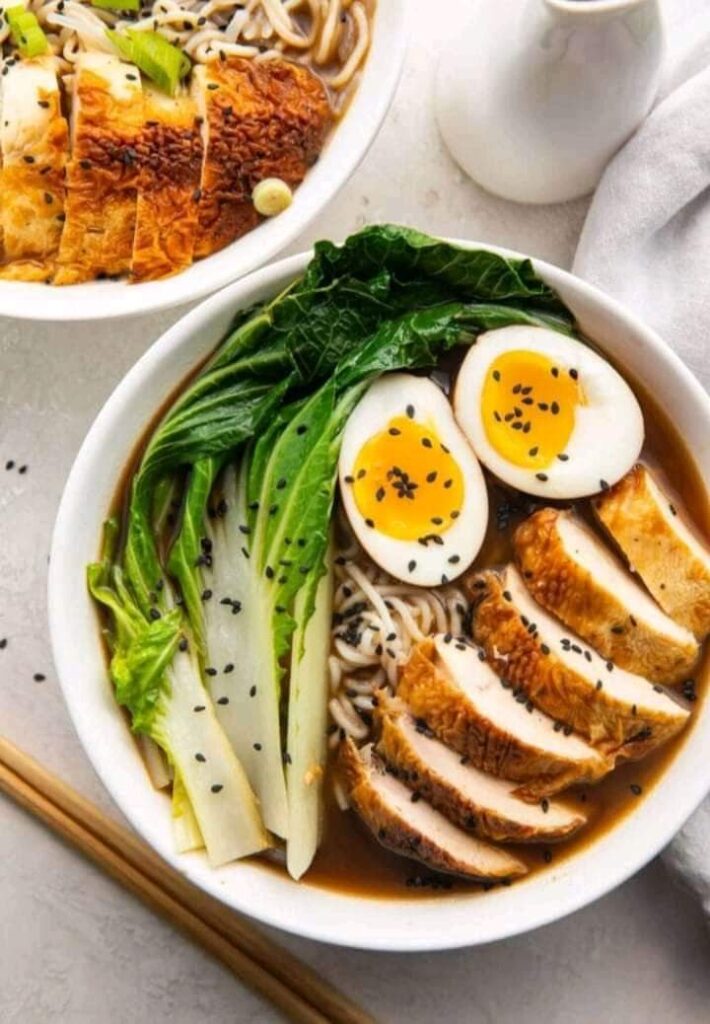 Free Keto Meal Plan : KETO DIET PLAN FOR BEGINNERS STEP BY STEP GUIDE
Ingredients
2-4 eggs
For the Ramen Egg Marinade (Optional)
¾ cup warm water
¼ cup low-sodium soy sauce
3 tablespoons rice vinegar
2 tablespoons Swerve optional
For the Ramen
1 tablespoon sesame oil or vegetable oil
1 tablespoon garlic minced
1 1-inch knob fresh ginger sliced
3 tablespoons low-sodium soy sauce
4 cups chicken stock
1 teaspoon Swerve optional
1-2 teaspoons sea salt to taste
1 small head baby bok choy halved
6 ounces shirataki noodles drained, rinsedrotisserie or cooked chicken 1 thigh per person or 1 breast per 2 people, sliced or cut into bite-sized chunks
1 handful mushrooms sliced, optional
½ cup scallions slicedsesame seeds for garnish, optional
Instructions
For the Ramen Eggs
Fill a pot with enough water to cover eggs, and bring to boil. Gently lower cold eggs into boiling water. Simmer 6 minutes for runny yolks, 7 minutes for slightly runny yolks, or 8 minutes for soft yolks.
Meanwhile, fill large bowl with ice water. When eggs are ready, transfer to ice bath to stop cooking. Soak 5 minutes or until cool to touch. Peel away shell and slice in half lengthwise. Set aside. If marinating, peel away shell and follow next step before slicing.
For optional marinade, whisk together warm water, soy sauce, rice vinegar, and Swerve in a medium bowl. Transfer peeled whole eggs into mixture. Marinate at least 30 minutes, up to 12 hours.
For the Ramen
In large pot over medium heat, heat oil until shimmering. Add garlic and ginger. Cook until softened. Add soy sauce and stir to combine. Cook another minute.
Add stock, Swerve (optional), and sea salt. Cover pot and bring to boil. Simmer 10 minutes, then add bok choy. Simmer another 5 minutes or until tender.
Meanwhile, boil a medium saucepan of water. Add shirataki noodles. Boil 2-3 minutes, then drain and rinse noodles in cold water.
If marinating eggs, remove from marinade and slice in half lengthwise. Divide noodles between bowls. Ladle broth into bowls.Top with sliced chicken, cooked bok choy, eggs, mushrooms (optional), and scallions. Garnish with sesame seeds if desired and serve.
Notes
Nutritional Information: Please note that the nutritional information shown for this recipe does include all optional ingredients.
Nutrition
Serving: 1serving | Calories: 342kcal | Carbohydrates: 26g | Protein: 43g | Fat: 15g | Saturated Fat: 3g | Polyunsaturated Fat: 4g | Monounsaturated Fat: 5g | Trans Fat: 1g | Cholesterol: 236mg | Sodium: 4069mg | Potassium: 1036mg | Fiber: 3g | Sugar: 1g | Vitamin A: 543IU | Vitamin C: 9mg | Calcium: 83mg | Iron: 2mg | Erythritol: 14g | Net Carbs: 9g
Free Keto Meal Plan : KETO DIET PLAN FOR BEGINNERS STEP BY STEP GUIDE