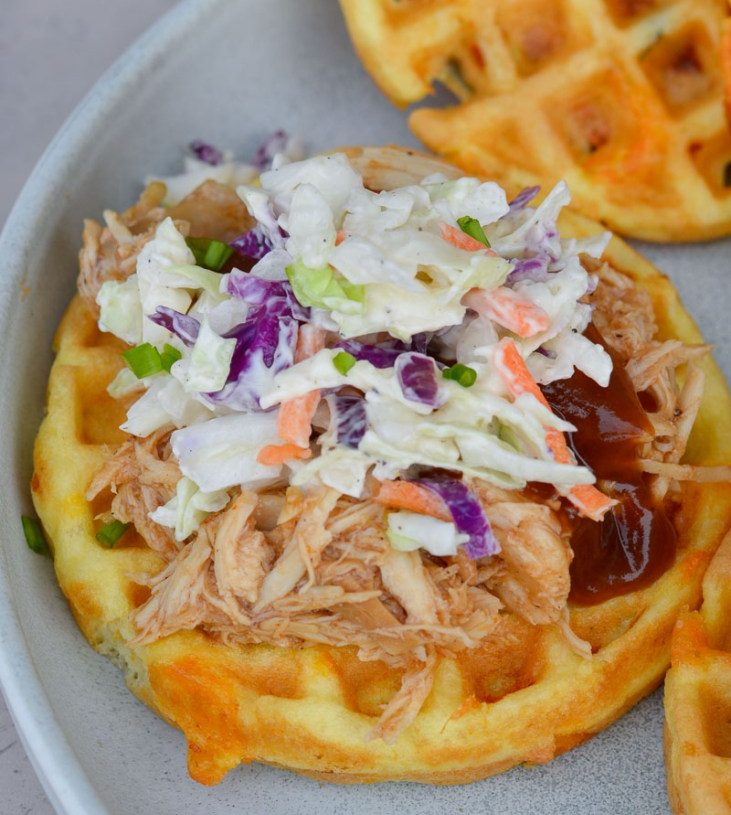 Free Keto Meal Plan : KETO DIET PLAN FOR BEGINNERS STEP BY STEP GUIDE
Ingredients
Jalapeno Chaffles
3 large eggs
1 cup shredded cheese (any variety or mixture)
1/4 cup almond flour
1/2 teaspoon baking powder
1/4 cup chopped and seeded jalapeño (fresh or canned)
BBQ Shredded Chicken
3 cups BBQ Shredded Chicken (recipe linked below) OR 3 cups rotisserie chicken with G. Hughes BBQ sauce to taste
Slaw
1 1/2 cup slaw mix
2 tablespoons mayonnaise
salt and pepper to taste
Instructions
Chaffle Directions:
Combine the eggs, shredded cheese, almond flour and baking powder in a small bowl and mix well.
Preheat a waffle maker according to the directions and lightly spray with cooking oil if needed.
Spoon the batter into the waffle maker and cook 2-3 minutes until steam is no longer coming from the machine.
This recipe makes 6 chaffles using the Dash Mini Waffle Maker.
BBQ Stack Directions:
To assemble the stack: 1 chaffle with 1/2 cup shredded chicken, 1/4 cup slaw mix.
Drizzle with additional BBQ sauce and add salt and pepper if desired.
Notes
This is the BBQ Chicken recipe I use.
Nutrition Information:
YIELD: 6 SERVING SIZE: Nutrition Calculated Per BBQ Stack
Amount Per Serving: CALORIES: 290TOTAL FAT: 16.2gCHOLESTEROL: 169mgSODIUM: 283mgCARBOHYDRATES: 3.8gNET CARBOHYDRATES: 2.9gFIBER: 0.9gSUGAR: 1.4gPROTEIN: 19.2g
Free Keto Meal Plan : KETO DIET PLAN FOR BEGINNERS STEP BY STEP GUIDE