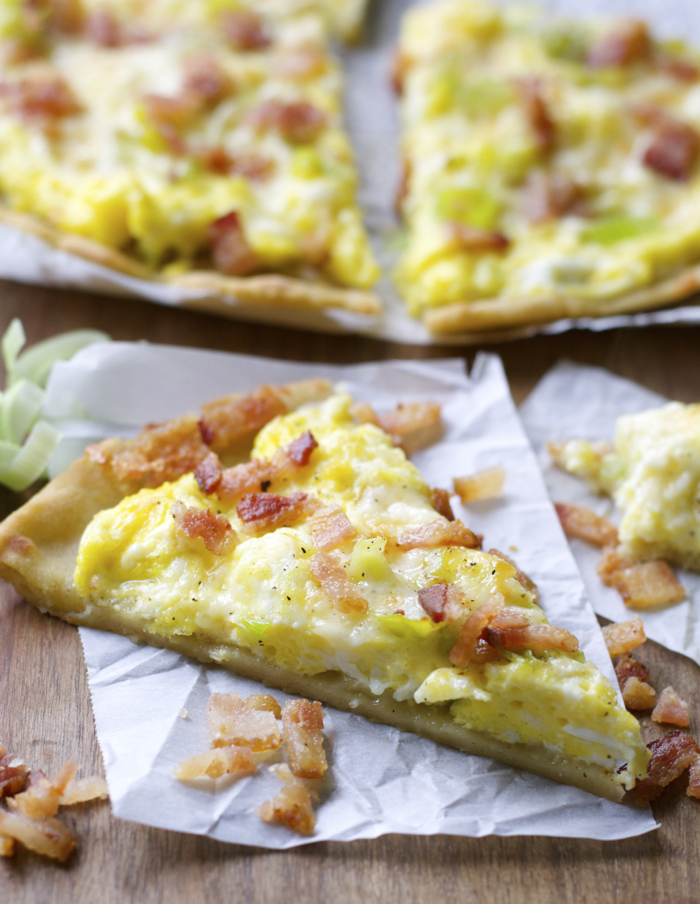 This meal was not actually supposed to have meat. It was supposed to be a lovely breakfast pizza with leeks, eggs, and sharp white cheddar. You know me and my inner vegetarian ways, and you know Mr. Maebell is a meat and potatoes man. If you're thinking the idea of a vegetarian pizza didn't go over well, you would be right.
Our conversation went a little something like this:
Him: What is for dinner?
Me: Pizza!
Him: Oh man! Yeah! I am so excited! Yeah! I want sausage and pepperoni…extra sausage…and cheese…and extra sausage!
Me: Well…
He didn't get the sausage and pepperoni he wanted, but he did get bacon. That counts for something, right?!
Breakfast for dinner, or "brinner", is one of our favorite meals. I don't care what it is a quiche, omelets, pancakes, or waffles- we love it. There is just something so comforting about chowing down on all your favorite breakfast foods at night when things are less rushed and you can really enjoy your meal.
Ingredients for Keto Breakfast Pizza
Here's a quick overview of what you'll need to make this tasty pizza. For exact measurements and instructions, keep scrolling down to the printable recipe card below!
Keto Pizza Crust:

Mozzarella cheese (shredded)
Cream cheese
Almond flour
Flax meal (ground)

Toppings:

Bacon
Leeks
Scrambled eggs (I add milk to make them nice and fluffy)
White cheddar cheese
Salt and pepper to taste
Substitutions and Suggestions for Breakfast Pizza
This recipe can really be made however you want. For example, if you aren't gluten free, use whatever pizza dough you want! Or if you prefer to make your own pizza dough, you can always add some delicious extras to the dough (think garlic, rosemary, Italian seasonings).
You could change out your meat as well! I love crispy bacon, but you can always change it up to include ham, sausage or steak.
I will find an excuse to add leeks to any meal, but if leeks aren't your jam, you can add honestly anything to this meal. Onions, peppers, olives, mushrooms, tomatoes…the world is your oyster here.
How do you make a Keto Breakfast Pizza?
First, we'll need to make our keto pizza crust. This is made with a fathead dough recipe.
Preheat your oven while you combine your shredded mozzarella and cream cheese. Heat in 30-second increments in the microwave, stirring in between until completely melted. Once melty and well mixed, add the almond flour and ground flax meal.
Mix until the dough forms a soft ball, then spread onto a greased pizza pan. For me, this made roughly a 10-11 inch crust to work with. Pre-bake the crust for 7 minutes or until it's just slightly brown.
Next, we'll prepare our toppings. Cook your bacon, sauté the leeks and soft scramble the eggs. Place all your toppings on the pizza and bake 8-10 minutes until the cheese has melted and the eggs are cooked through.
More Keto Breakfast Recipes:
Keto Breakfast Bagel Sandwiches
Keto Lemon Chia Pudding – 2 Ways!
Spinach and Bacon Egg Muffins
Keto Lemon Raspberry Bread
Keto Sausage and Biscuits
Sausage and Spinach Quiche
Ingredients
4 slices bacon, cooked and chopped
1/2 cup leeks, thinly sliced
6 eggs, beaten
2 tablespoons heavy cream
3/4 cup sharp white cheddar cheese, shredded
Salt and pepper to taste
The Keto Pizza Crust
2 cups shredded mozzarella cheese
2 ounces cream cheese
3/4 cup almond flour
2 Tablespoons ground flax meal
Instructions
THE CRUST
Preheat the oven to 400 degrees.
In a microwave proof mixing bowl combine 2 cups shredded mozzarella cheese and 2 ounces cream cheese. Heat in 30 second increments, stirring in between until completely melted. Add the almond flour and ground flax meal.
Mix the dough well until you have a soft ball. Spread onto a greased pizza pan. I had a roughly 10-11 inch crust.
Pre-bake the crust for 7 minutes. It should be slightly brown.
TOPPINGS & ASSEMBLY
Heat a skillet to medium heat and cook the bacon until crisp. Remove from the skillet and set on paper towels to drain, then chop.
Drain most of the bacon grease from the skillet, reserving about a teaspoon.
Add the leeks to the skillet and cook for one minute, stirring occasionally. When tender, remove leeks from skillet and set aside.
In a small bowl beat the eggs and milk together, soft scramble the eggs. You do not want to cook your eggs completely, because they will finish cooking in the oven. Remove them when the scrambled egg begins to form, but while they are still undercooked.
To assemble the pizza, add half the leeks, top with the scrambled eggs, the rest of the leeks, the shredded cheese and salt and pepper to taste.
Bake pizza for 8-10 minutes, remove from oven and top with bacon.
Nutrition Information:
YIELD: 6 SERVING SIZE: 1 slice
Amount Per Serving: CALORIES: 357TOTAL FAT: 18.8gCHOLESTEROL: 226.7mgSODIUM: 1014.6mgCARBOHYDRATES: 6.6gNET CARBOHYDRATES: 4.6gFIBER: 2gSUGAR: 2.2gPROTEIN: 28g
Free Keto Meal Plan : KETO DIET PLAN FOR BEGINNERS STEP BY STEP GUIDE