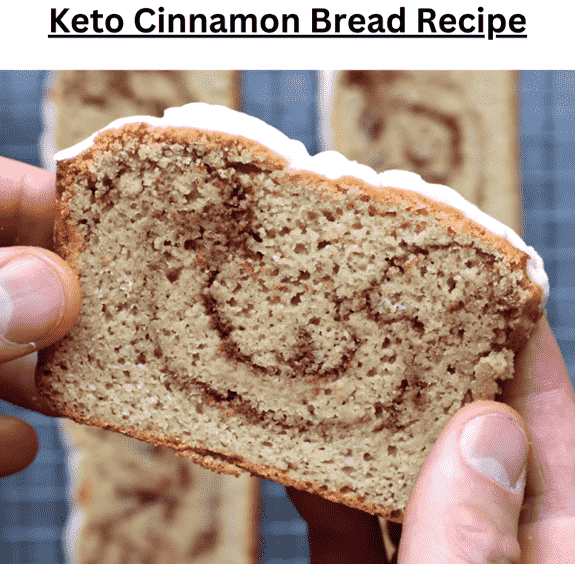 Free Keto Meal Plan : KETO DIET PLAN FOR BEGINNERS STEP BY STEP GUIDE
Embrace the warmth and comfort of a freshly baked treat while adhering to your keto lifestyle with this enticing Keto Cinnamon Bread Recipe. Bursting with the nostalgic flavors of cinnamon and subtly sweetened with a keto-friendly sweetener, this bread offers a delightful combination of flavors and textures. Whether enjoyed as a breakfast or a satisfying snack, this keto cinnamon bread is the perfect way to indulge in a guilt-free and flavorful treat.
Keto Cinnamon Bread Recipe: Servings: 12 slices
Ingredients:
For the Bread:
2 cups almond flour
1/4 cup coconut flour
1/2 cup erythritol or other keto-friendly sweetener
1 teaspoon baking powder
1/2 teaspoon baking soda
1/4 teaspoon salt
1 teaspoon ground cinnamon
4 large eggs
1/2 cup unsweetened almond milk
1/4 cup melted coconut oil
1 teaspoon vanilla extract
For the Cinnamon Swirl:
2 tablespoons erythritol or other keto-friendly sweetener
1 tablespoon ground cinnamon
Instructions:
Preheat the Oven:

Preheat your oven to 350°F (175°C). Grease a loaf pan and line it with parchment paper for easy removal.

Mix Dry Ingredients:

In a large bowl, whisk together the almond flour, coconut flour, erythritol, baking powder, baking soda, salt, and ground cinnamon.

Combine Wet Ingredients:

In a separate bowl, beat the eggs. Add in the unsweetened almond milk, melted coconut oil, and vanilla extract. Mix well.

Combine Wet and Dry Mixtures:

Pour the wet ingredients into the bowl with the dry ingredients. Stir until a smooth batter forms.

Prepare Cinnamon Swirl:

In a small bowl, mix together the erythritol and ground cinnamon for the cinnamon swirl.

Layer the Batter:

Pour half of the batter into the prepared loaf pan. Sprinkle half of the cinnamon swirl mixture over the batter. Use a knife or a toothpick to gently swirl the cinnamon into the batter.

Add Remaining Batter and Swirl:

Pour the remaining batter over the first layer. Sprinkle the rest of the cinnamon swirl mixture on top and swirl it again.

Bake the Bread:

Bake in the preheated oven for 45-50 minutes, or until a toothpick inserted into the center comes out clean.

Cool and Serve:

Allow the keto cinnamon bread to cool in the pan for a few minutes before transferring it to a wire rack to cool completely.
Nutrition Facts (per serving, based on 1 slice):
Calories: ~170
Total Fat: ~14g
Saturated Fat: ~5g
Carbohydrates: ~5g
Fiber: ~2g
Sugars: ~1g
Protein: ~6g
Sodium: ~180mg
Free Keto Meal Plan : KETO DIET PLAN FOR BEGINNERS STEP BY STEP GUIDE