This makes a total of 16 Keto Amaretti Cookies. Each cookie comes out to be 89.38 Calories, 8.11g Fats, 1.17g Net Carbs, and 2.43g Protein.
These little amaretti cookies are delicate and sweet. Each one is soft and full of almond and fruity flavors. This recipe uses strawberry jam, but you can use any flavor sugar free jam you'd like. My favorite brand to look for is the Polaner with added fiber (as this is usually the lowest carb option). They're the perfect keto dessert or snack to make for the spring time that's upcoming. Make sure you don't miss out!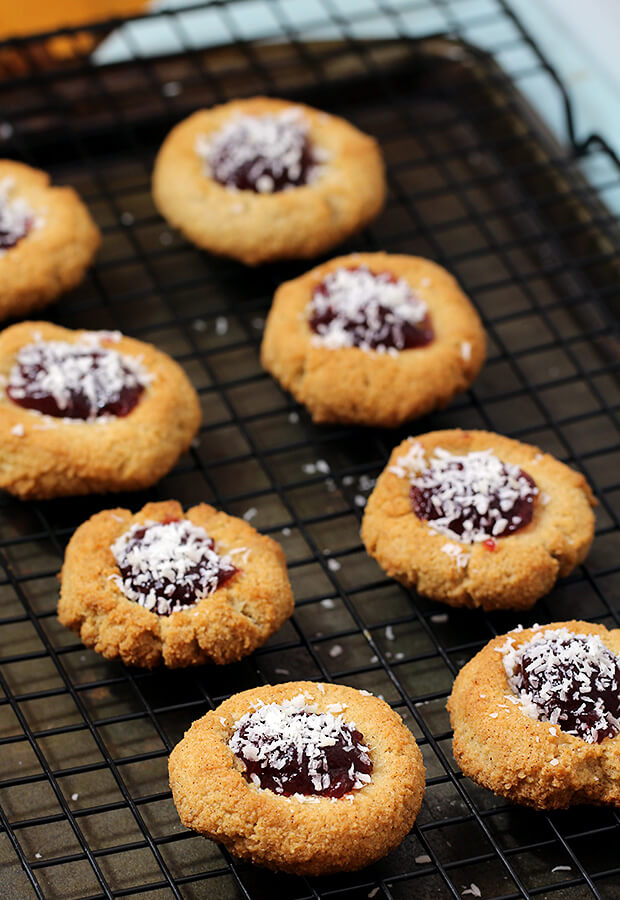 The Preparation
1 cup. Almond Flour
2 tbsp. Coconut Flour
1/2 tsp. Baking Powder
1/4 tsp. Cinnamon
1/2 tsp. Salt
1/2 cup Erythritol
2 large Eggs
4 tbsp. Coconut Oil
1/2 tsp. Vanilla Extract
1/2 tsp. Almond Extract
2 tbsp. Sugar-Free Jam
1 tbsp. Shredded Coconut
The Execution
Preheat your oven to 350F. Combine all your dry ingredients, then add wet ingredients and combine well.
Form your cookies on a parchment paper lined baking sheet. Add an indent in the middle of each cookie using your finger.
Bake for about 16 minutes or until the cookies turn golden and crack slightly.
Let cookies cool on a wire rack and add a bit of sugar free jam to each indent.
Sprinkle some shredded coconut on top of each one and enjoy!