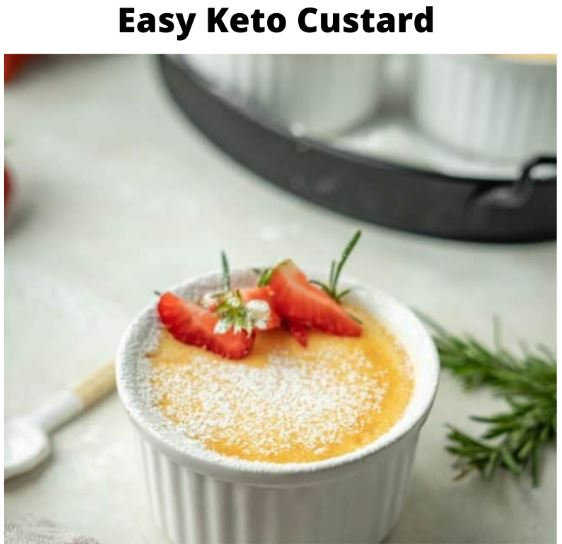 Free Keto Meal Plan : KETO DIET PLAN FOR BEGINNERS STEP BY STEP GUIDE
Easy Keto Custard. A perfect easy keto custard recipe. It's creamy, sweet, and still 100% sugar free! Requires just 4 ingredients, and 10 minutes prep time. Because an easy keto dessert is always one to please so we love this recipe and know you will too!
Tips
Don't Overcook it!
DO NOT overcook your keto egg custard. You may find it tastes dry and eggy if you cook this easy keto custard past a slight jiggle. By keeping a close eye on your sugar free custard, avoid the eggy taste.
Store Low Carb Custard Properly
Make sure to use plastic wrap to prevent film from forming on top if there is leftover keto custard recipe (cooked or raw). It may make for a weird mouth feel, but the film won't alter the flavor. To prevent this easy keto custard recipe from drying out, you can also store the baking dish in an air tight container.
Batter Must be Smooth
Make sure the batter is uniform before pouring the low carb custard batter into ramekins. The eggs will scramble and not set properly if there are unmixed eggs and cream.
Equipment
You will need a whisk to whisk together the eggs and cream to make keto egg custard, as well as a large bowl, a baking dish (for water bath), and four ramekins. You can use another type of small baking dish, or one large baking dish if you don't have ramekins. If you do not use smaller ramekins, just know the oven time will change.
servings 4
calories per serving 467kcal
prep time: 10 minutes
cook time: 30 minutes
Ingredients:
3 large Eggs
1/4 cup Low Carb Sugar Substitute
1 tsp vanilla extract
2 cups Heavy Cream
Berries or nuts for garnish
10-15 drops Liquid Stevia Optional for more sweetness
Instructions:
Preheat oven to 350. Grease FOUR ramekins and in a oven dish, place them. Put it aside.
Add the eggs, erythritol, vanilla, and stevia in a bowl or a large jug if added sweetness is desired. Whisk until it gets combined.
Add the heavy cream, and until the eggs are dissolved, whisk well.
Into the four ramekins, pour the mixture. In the oven dish surrounding the ramekins, pour boiling water, until it covers about an inch from the top of your ramekins.
Until it gets golden and set around the edges, bake for THIRTY minutes, but a little wobbly in the center.
Let it cool. You can serve it warm/cold.
Garnish with your choice of fruits and/ or nuts.
Notes
You can replace 1-2 of the whole eggs with egg yolks for a creamier custard.
Net Carbs: 4
Nutrition Facts
Keto Custard
Amount Per Serving
Calories 467Calories from Fat 432
% Daily Value*
Fat 48g74%
Saturated Fat 29g145%
Trans Fat 1g
Cholesterol 303mg101%
Sodium 99mg4%
Potassium 142mg4%
Carbohydrates 4g1%
Sugar 1g1%
Protein 7g14%
Vitamin A 1952IU39%
Vitamin C 1mg1%
Calcium 98mg10%
Iron 1mg6%
Free Keto Meal Plan : KETO DIET PLAN FOR BEGINNERS STEP BY STEP GUIDE