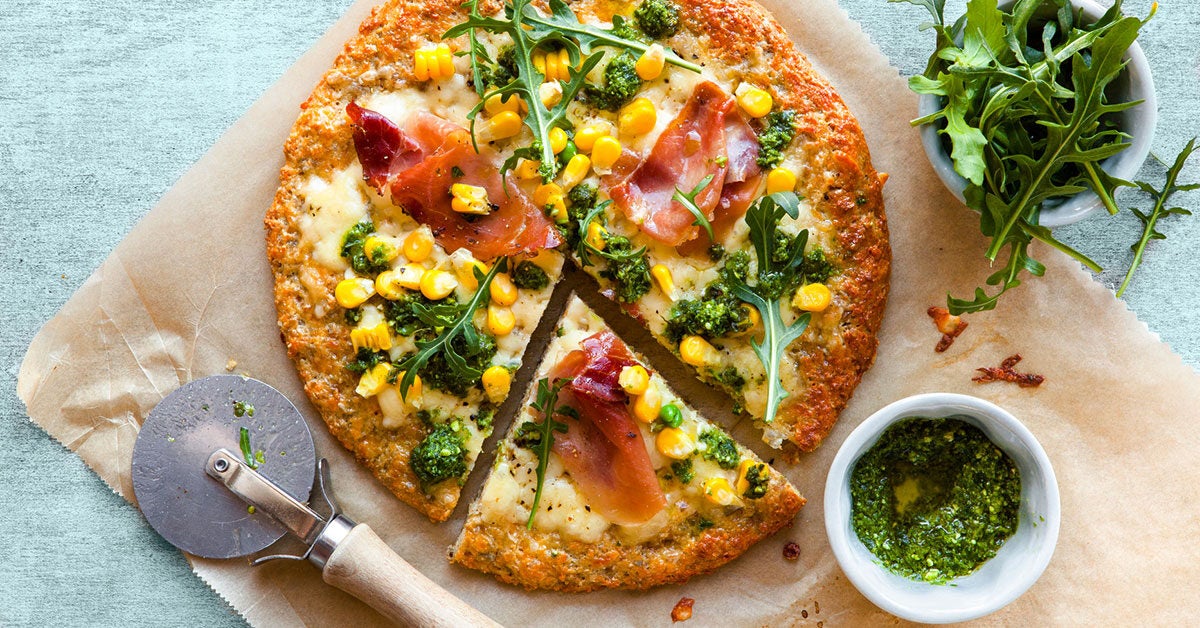 INGREDIENTS
For the pizza crust…
1 head of cauliflower
1 egg
1/2 cup coconut flour
1 teaspoon parsley
1 teaspoon basil
1 teaspoon oregano
1 tablespoon Primal Kitchen Avocado Oil
For the avocado oil pesto…
2 cups fresh basil
1/3 cup pine nuts, toasted
1/4 cup grated Parmesan cheese
2/3 cup Primal Kitchen Extra Virgin Avocado Oil
1 teaspoon garlic, minced
1 teaspoon lemon juice
Salt and pepper to taste

Free Keto Meal Plan : KETO DIET PLAN FOR BEGINNERS STEP BY STEP GUIDE
TOPPINGS
4 plum tomatoes, sliced thinly
1/2 cup broccolini
1/2 cup mozzarella cheese (full fat!)
2 tablespoons Primal Kitchen Vegan Ranch
Optional: Top with red pepper flakes
Instructions
For the cauliflower pizza crust…
Pulse the cauliflower in food processor until it turns into rice.
Squeeze the riced cauliflower through a cheese cloth or dish towel to remove excess moisture.
Two hands hold the draining cauliflower as it goes through cheesecloth into a bowl to make the cauliflower pizza crust. Extra riced cauliflower and an egg yolk are in two clear bowls nearby, as well as a blue towel.
Two hands hold the sieve as the water drains out of the riced cauliflower, squeezing the cheesecloth into a clear bowl. There is another clear bowl of egg yolk and riced cauliflower near by.
Place the cauliflower and coconut flour into a large mixing bowl.
The coconut flour for the keto cauliflower pizza crust is mixed by two hands into a bowl with a wooden spoon, while other ingredients like salt, prepper, an egg yolk, and more coconut flower and a measuring spoonare nearby.
In a separate mixing bowl, whisk together the eggs and spices until you've created a uniform liquid.
Combine the eggs and spices with the cauliflower and coconut flour, and knead the mixture into a smooth dough.
Two hands use a wooden spatula and clear bowls to mix the egg yolk into the flour mixture for the keto pizza.
Line a baking sheet with parchment paper, and roll out the cauliflower dough into an even, circular crust about 1/2 inch thick. Brush the crust with Primal Kitchen Avocado Oil.
Two hands form the dough into a square on a baking tray covered in parchment paper. Other keto pizza crust ingredients are nearby.
Bake the crust at 400ºF for 30 minutes.
The browned cauliflower pizza crust is next to pesto ingredients like tomatoes, pesto, california extra virgin avocado oil, and basil.
For the Primal Kitchen Avocado Oil pesto…
Add the basil leaves, parmesan cheese, pine nuts, garlic cloves, Primal Kitchen® Extra Virgin Avocado Oil, lemon juice, salt, and pepper into the food processor.
Blend the ingredients until smooth.
Hands place sliced mozzarella on top of the cauliflower crust spread with pesto, with other ingredients nearby.
Free Keto Meal Plan : KETO DIET PLAN FOR BEGINNERS STEP BY STEP GUIDE
Topping the pizza…
Slice the tomatoes thinly.
Cut the broccolini into pieces.
Slice the full-fat mozzarella cheese into even pieces.
Spread the pesto over the pizza crust in a thick, delicious layer.
Artfully layer veggies and cheese on top of the pesto.
Add a few thick lines of Primal Kitchen Vegan Ranch.
Finish off with red pepper flakes, a sprinkle of salt and pepper, and light drizzle of Primal Kitchen Extra Virgin Avocado Oil, if desired.
Pop the pizza in the oven for another 6-7 minutes at 400ºF, or until the veggies are tender.
Enjoy!
Two hands place sliced tomatoes on top of the cauliflower crust with pesto, with a chopping board of chopped greens nearby.

Free Keto Meal Plan : KETO DIET PLAN FOR BEGINNERS STEP BY STEP GUIDE
NUTRITIONAL INFO (PER SERVING):
Calories: 465
Carbs: 18 grams
Net Carbs: 10 grams
Fat: 40 grams
Protein: 12.6 grams
Free Keto Meal Plan : KETO DIET PLAN FOR BEGINNERS STEP BY STEP GUIDE