Sausage rolls are among the best traditional British snacks. They are delicious and easy to prepare. However, they aren't your thing if you're following a keto diet, right now ?
Total Servings – 4
Prep Time – 20 minutes
Cooking Time – 20 minutes
Ingredients:

2 tablespoons cream cheese
1 1/2 cups mozzarella (shredded)
1 egg
1 pound raw ground pork sausage meat
3/4 cup almond flour
Black pepper as per taste
Salt as per taste
Free Keto Meal Plan : KETO DIET PLAN FOR BEGINNERS STEP BY STEP GUIDE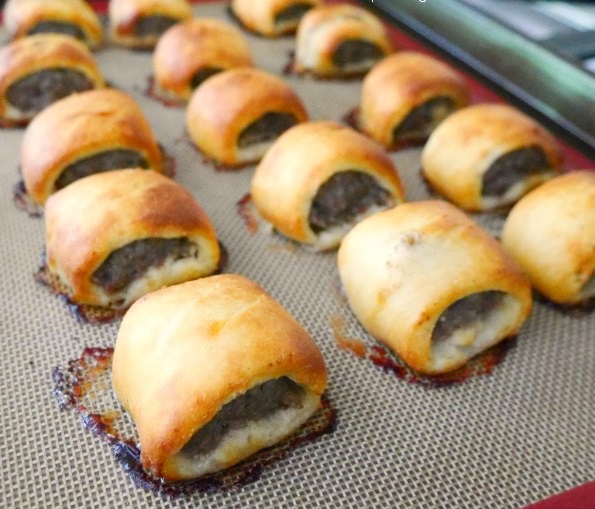 How to Prepare
Preheat the oven to 375 0 F
2 – Put the cream cheese and mozzarella in a bowl and microwave it for 1 minute. Stir it and then bake for another 30 seconds
3 – Add almond flour, egg, salt, and pepper to the bowl and mix thoroughly
4 – Allow the mixture to cool for some time and then knead it and make a smooth dough
5 – Roll the dough into a rectangle and slice it into two horizontally
6 – Season the ground pork with salt and pepper and then divide the mixture equally among the two dough pieces. Ensure that the meat sits in the middle
7 – Roll the two pieces and seal from either side using your fingers. Cut each into 8 pieces and slash the top of each piece twice
8 – Place the rolls on a baking sheet and roast for about 15 minutes or until the center of the pork hits 160 0 F
9 – Allow the rolls to cool for about 5 minutes and use paper towels, if needs be
10 – Serve warm and enjoy!
Nutritional Information
Energy – 583 kcal
Carbohydrates – 5 grams
Fat – 47 grams
Fiber – N/A
Protein – 34 grams