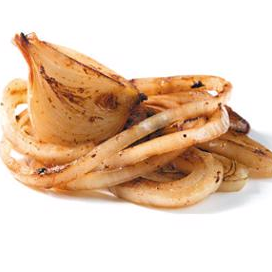 Caramelized onions are a tasty and versatile ingredient that can add depth and flavor to a variety of dishes. However, as onions are relatively high in carbohydrates, it's important to be mindful of portion sizes when incorporating them into a ketogenic diet. This keto-friendly recipe for caramelized onions uses a low-carb sweetener and is perfect as a side dish or as a topping for burgers or salads.
Ingredients:
2 large onions, sliced thinly
2 tbsp olive oil or avocado oil
2 tbsp unsalted butter
1 tbsp low-carb sweetener (such as Swerve or monk fruit sweetener)
1/4 tsp salt
1/4 tsp black pepper
1/4 tsp dried thyme
Instructions:
Heat a large skillet over medium heat. Add the olive oil and butter and let it melt.
Add the sliced onions to the skillet and stir to coat them with the oil and butter mixture.
Reduce the heat to low and let the onions cook slowly, stirring occasionally, until they start to caramelize and turn golden brown. This can take up to 30-40 minutes.
Once the onions are caramelized, add the low-carb sweetener, salt, black pepper, and dried thyme. Stir to combine and cook for an additional 2-3 minutes.
Serve the caramelized onions as a side dish or use them as a topping for keto-friendly burgers, sandwiches, or salads.

Free Keto Meal Plan : KETO DIET PLAN FOR BEGINNERS STEP BY STEP GUIDE
Nutrition information: This recipe yields 4 servings. Each serving contains approximately:
126 calories
11g fat
5g net carbs
1g protein
Note: Nutrition information may vary depending on the specific ingredients and brands used.
Enjoy your delicious and keto-friendly caramelized onions!
Free Keto Meal Plan : KETO DIET PLAN FOR BEGINNERS STEP BY STEP GUIDE