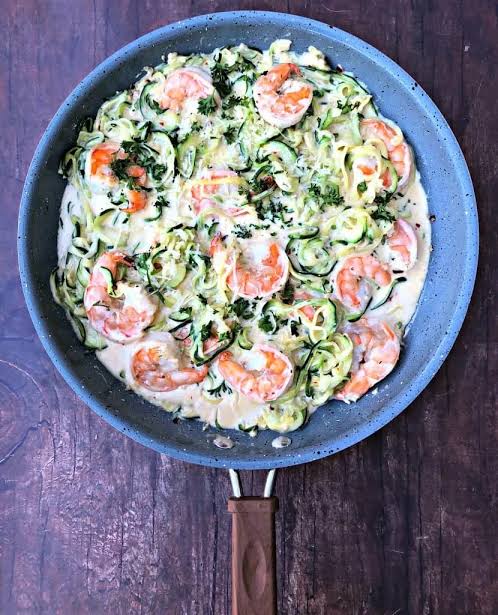 Free Keto Meal Plan : KETO DIET PLAN FOR BEGINNERS STEP BY STEP GUIDE
Creamy Garlic Shrimp with Zucchini Noodles
Ingredients:
1 pound shrimp, peeled and deveined
2 tablespoons butter
3 cloves garlic, minced
1/2 cup heavy cream
1/2 cup grated Parmesan cheese
2 medium zucchinis, spiralized into noodles
Salt and pepper, to taste
Fresh parsley, chopped (optional)
Instructions:
Heat a large skillet over medium-high heat. Add butter and garlic, and cook until fragrant, about 30 seconds.
Add shrimp to the skillet and cook for 2-3 minutes on each side, until pink and cooked through. Remove the shrimp from the skillet and set aside.
Reduce heat to medium and add heavy cream and Parmesan cheese to the same skillet. Stir until the cheese is melted and the sauce is smooth.
Add zucchini noodles to the skillet and toss to coat with the sauce. Cook for 1-2 minutes until the noodles are tender and coated in the sauce.
Return the shrimp to the skillet and toss to combine with the noodles and sauce.
Season with salt and pepper to taste. Garnish with fresh parsley, if desired.
Nutritional Info:
Servings: 4
Calories: 354
Fat: 24g
Protein: 30g
Carbs: 6g
Fiber: 1g
Net Carbs: 5g
Enjoy your delicious and healthy keto meal!
Free Keto Meal Plan : KETO DIET PLAN FOR BEGINNERS STEP BY STEP GUIDE